Words from Only Echo
-
---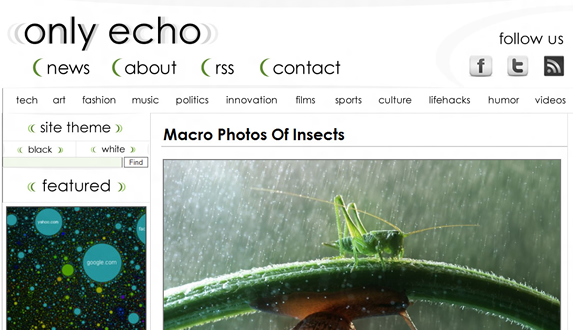 I wasn't too sure how to exactly start this project that me and one of my buds have been holding off on for a while. When the summer of 2011 finally came around we decided that it was time to really get this thing off the ground. After some mediocre searching we came across
Very Smart Design
. After looking at some of the website's previous work I thought it was going to be a team of self righteous jerks who treated me like just another loser who wanted to start a blog. What I got was this humble guy named
Chris Perry
.
We never met physically nor did we talk on the phone. Our only forms of communication took place on Skype and through email. As soon as I told him the name of the website I'm sure he had a vivid image of what he wanted to come up with and I was absolutely right. When he showed me the logo for the first time and how it correlated with the name, I was amazed. All in all, this guy is pretty creative.
We put a lot of thought and discussion into the website and I was able to realize that Chris takes a huge pride in his work. I don't think any of this would have been possible with anyone else designing the site. Seriously. You should have seen what this guy pulled out of his hat. We managed to finish the website in record time and it turned out to be an amazing one at that.
I plan on keeping in touch with Chris and working on many projects with him in the future, only if he wants to of course. 'Pleased' doesn't even being to describe how grateful I am for all of his hard work. It's not often you meet people with a creative touch such as his.
- Gabriel Dekoladenu
Founder, Only Echo
http://www.onlyecho.com
---
---