1. Website Design Overview
-
---
Starting a website is similar to starting a business.
Websites require careful planning, maintenance, and structure. For example, think of your website as a "Shopping Mall". All too often, first-time visitors find themselves strolling through, and not finding what they were looking for. You may have a wider variety of content and food than any mall of your type, but without proper layout and direction, your visitors may never see the half of it.
Very Smart Design specializes in helping you plan your website design from the ground up, providing a solid framework, the lowest WordPress website pricing around, and an end-result which allows visitors to spend less time searching and more time enjoying content.
Along with planning and structuring your site, we also assist in networking with relevant business connections; open the door to more traffic on your site, while introducing new partnerships, opportunities, and an increased stream of revenue.
Of course, we also assist you in setting up social network integration to keep your visitors connected and sharing your content: Facebook, Twitter, Stumbleupon, Google +, etc. And to get you even more visitors, we set your site up beautifully with SEO, making sure you have a top presence on relevant Google search results.
2. Examples of Website Design
---
You can click the pictures below to see the full size images.
---
Elements of Smart Design
---
1. Graphics Styling & Logo/Brand Recognition is what makes your site unique. It's what differentiates your website design from that of other sites, and it provides visitors a visual representation of your brand that remains in their minds well after they leave. We design for an appealing visual impression along with well-crafted site navigation, one of our main keys to keep visitors coming back.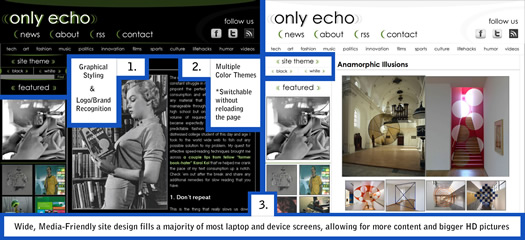 2. Up to 3 Color Themes, Switchable on the fly… Can't decide whether to go light, medium, or dark website design? Why not have all three? Our fully customizable design template allows us to create custom color themes on your site with a few quick code changes; With this, we provide the ability for your site's visitors to switch the colors on your page with the click of a button, and switch right back if they don't like the alternative. Decisions, decisions.
3. Wide, Media-friendly Site Designs mean you don't have to sacrifice high quality images due to lack of space. We provide a variety of website design widths with spacious main areas, meaning your audience can enjoy bigger pictures, videos, maps, media, and even 3 column layouts for special content sections. This style of design is currently being used on this site (Very Smart Design), on our blog, as well as on our client sites "Nine is the One" and SportsHopes.
4. ShadowBox Viewer let's your users view images in the maximum dimension available for their screen size, without leaving your site. This means they can click on any of your smaller images or thumbnails for a closer look, and once they're done, they can exit the overlay viewer and resume browsing right from where they left off. You can view an example of how ShadowBox works by clicking the image below.


---
Elements of Social Networking
---
1. Facebook Like & Share Integration allows your visitors to promote and support your content on their Facebook page. The Share button allows for them to post your article directly to their Facebook feed, immediately visible to all of their friends; this is one of the strongest forms of networking and content discovery online.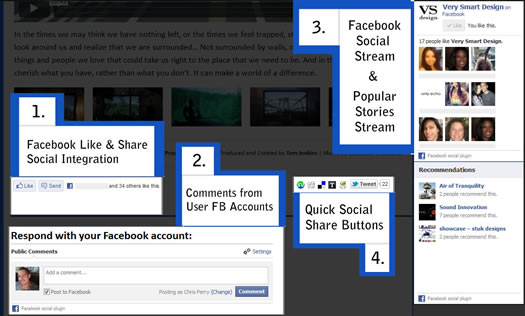 2. Comments from User Facebook Accounts means your users don't have to go through that dreaded sign up for your page in order to leave comments on your blog or page content; they simply login with their pre-existing Facebook accounts, and are instantly able to join the discussion or leave feedback.
3. Facebook Social Streams show the content on your site with the most "Likes" or "Shares", allowing users to quickly discover your most popular content. Also, if you have a Facebook Fan Page, you can choose to stream your latest posts and news from the Fan Page directly into the stream.
4. Quick Social Share Buttons is another way for users to network or broadcast your content onto other social networking sites, such as Twitter, Digg, StumbleUpon and Google +. The more social sites you provide for them to share, the more places on the internet that your content can be visible, leading to more traffic and a bigger (and more relevant) audience.
---
Elements of Business
---
1. Full Online Store with Cart and Checkout means your visitors can shop your content directly within your site, without you needing a presence on eBay or a middleman to do all of the calculations. You let us know what you want to sell and provide the pictures and prices, and we'll do the rest. You get 100% of the profits from everything you sell.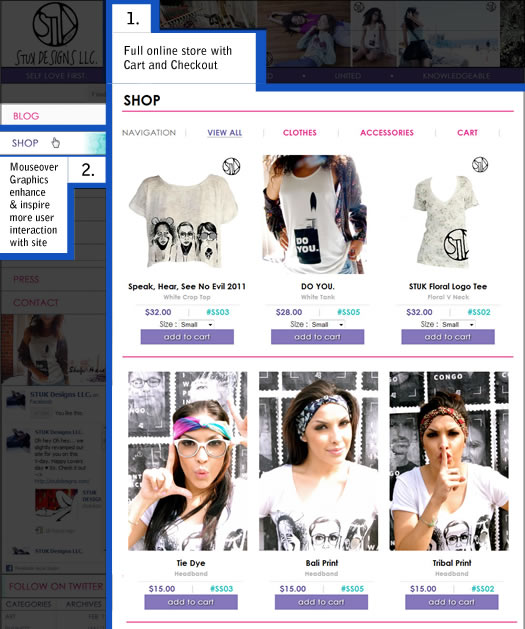 2. Client Login Area gives you quick access to all of your account information, where at any time you can view the worklog (the latest work we've completed for you), your account balance, and full details on your project. For your convenience, we've set up a system to allow fast and easy payments. Check out a fully functioning demo of the Client Login Area by Clicking Here.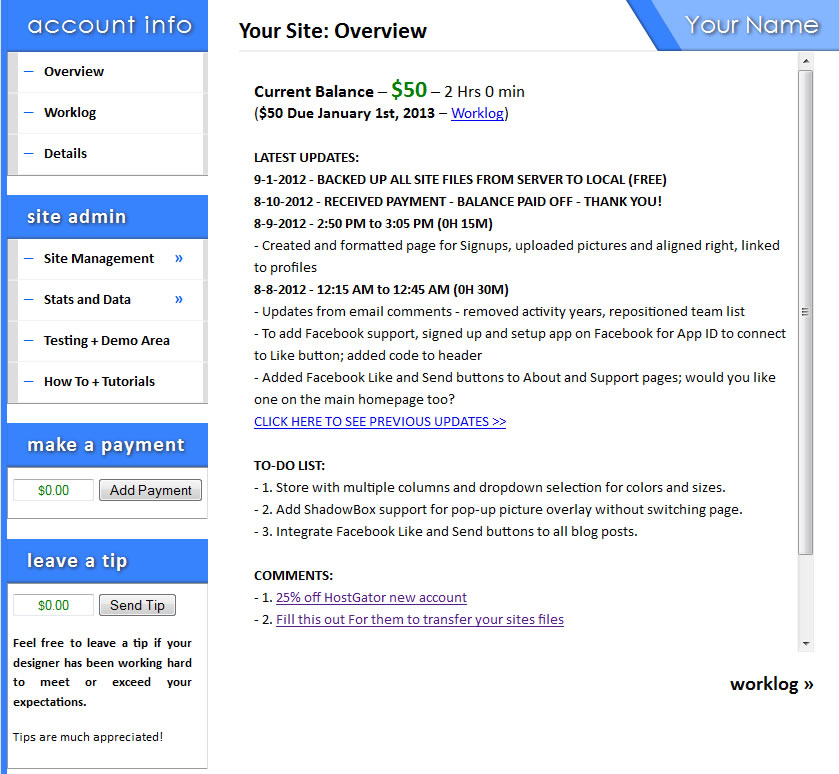 3. Mouseover Graphics allow a special level of user interaction, making your site seem more "alive" and reactive as they navigate and hover over various objects. This assists the user both in that it lets them know that the item they are hovering over is "actionable" (potentially linking to another area), and also gives a general sense of responsiveness and control.
3. Website Design Q+A
---
Q: How much will it cost to make my website?
A: That depends on a few things: How much content you would like us to incorporate in your site, how much effort and time you want to designate to the design, and which of the various features from the Feature Gallery you would like to include on your site (Click Here to view available features and add-ons).
Unlike other sites that charge $100s of dollars for WordPress website pricing, we charge an average of $25 per hour for website design. And within that hour, we can finish multiple pages, all depending on the amount and complexity of content on each.
According to eHow's article on the Average Cost of WordPress Website Pricing, the cost of a "Very Small Site" (with only an About Us and Contact page) is an average of "$250 to $1000". The average cost for "Fully-Featured Sites" (fully-themed with a blog, social integration and add-ons) averages anywhere from $2000 to $5000.
We complete and launch "Fully-Featured Sites" for an average of $400 — nearly 80% less than competition — and we never sacrifice quality. Every site we design is given our full skill and attention.
In short, it all depends on what you want on your site, and we're positive we can give you the most bang for your buck. Check out our Design Showcase for examples of recent sites we've built.
---
Q: How long will it take to finish my website?
A: We have completed and launched full websites with durations ranging anywhere between 2 days to 2 months. The duration depends on how much content you provide us, how fast you provide us that content, and what features you choose from the Feature Gallery (Click Here to view available features and add-ons).
---
Q: How do I know which project type to choose for my website?
A: We provide three different project types:
1. Small Projects are usually for personal sites with few pages or styling, which won't be updated often — usually just to have a web presence.
2. Medium Projects are best for aspiring bloggers, and are designed to be media content and socially targeted — these are great for connecting with your audience and having your content seen by thousands of people around the world.
3. Large Projects are which is aimed at fully-featured bloggers, businesses, and up-and-coming organizations — these projects have all of the media and social features from the Medium Projects, and on top of that, we will literally "set up shop" to create an online store for you. These projects also include free backups and longer support hours.
Once you tell us what your goals are for your website or business, we can help you choose the project type that best fits your needs.
4. Website Design Pricing
---
Small Project
Medium Project
Large Project

---

Features
(click for example)

1. Graphics (Flat Colors)
2. Static Graphics
3. 1 Static Color Theme

(click for example)

1. Graphics (Gradients)
2. MouseOver Graphics
3. 2 ColorSwitch Themes
4. Facebook Like + Share
5. Media Slideshow
6. Wide Media-Friendly
7. ShadowBox Viewer
8. Social Sidebar Streams
9. Widget Add-ons
10. Facebook Comments
11. Search Engine Opt.

(click for example)

1. Graphics (Full Styling)
2. MouseOver Graphics
3. 3 ColorSwitch Themes
4. Facebook Like + Share
5. Media Slideshow
6. Wide Media-Friendly
7. ShadowBox Viewer
8. Social Sidebar Streams
9. Widget Add-ons
10. Facebook Comments
11. Search Engine Opt.
12. Access to Stats
13. Full Online Store
with Cart & Checkout
14. Foreign Language
Translations
15. All Social Sharing
(FB, Twitter, Pinterest, G+)
16. Free Site Backups
17. SMS/Text Contact
18. Long Support Hours

** Other features may be available upon request **

---

Build Site
Rate of $30/hr
for first 5 hours
then M. Project rate
Rate of $30/hr
for up to 5 hours
then L. Project rate
Rate of $35/hr

---

Consulting
(phone, IM or
meetup)
$30/hr
$30/hr
$35/hr

---

Down Pymt
$300
$350
$400
Covers 2 website design mockup revisions, website FTP +
database setup, & initial WordPress platform/plugin installs.

---

Site Backup
(required)
$15/month
$15/month
Free
Other Backup options available, including weekly and bi-weekly.
Discounts up to 30% when pre-paying 3 months, 6 months or 1 year.

---

Business Card Design
(optional)
$35 – Front Only
$60 – Front + Back
$100 – 2 Cards Designed, Front + Back

---

Social Media Management
(optional)
$75 – Facebook Fanpage Initial Setup and
Link to Website "Likes" to Fanpage Community.
$50 – Monthly management of posting photos, content and updates (Facebook & Twitter).

---

Support Hours
Weekdays
10AM-8PM
Weekdays
10AM-10PM
Weekdays & Weekends
9AM-12AM
5. Website Design Sign Up
---
Please fill out the form below if you are interested in our website design services.
This Sign Up form is a request form, to give us better idea on how we can help you.
We will respond back to your request within 24 hours, and if you then agree that you would like to continue and purchase the service, we will send you a contract fully detailing the WordPress website pricing and options.
---
---
---