SDS Program Showcase
-
---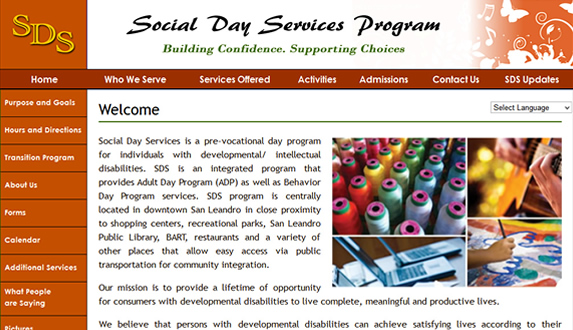 The crew at Social Day Services Program came to us needing a website, and they needed it done quickly; they had an open house to demonstrate their facilities and services, and wanted to provide those interested with a link to their website for more detailed information. The problem was, the open house was in less than a week!
Working night and day with the program director Nikki Mellion, we were able to design a site that was both easy to read and easy to navigate, filled with detailed information on their services. To make it as easy as possible for their visitors to sign up, we created online e-application forms which can be filled out and submitted within the site, eliminating the barrier of needing to mail or scan and fax the information. With the help of the Social Day Services Program staff, we were we able to work together to beat the deadline, as well as create a full-featured website for their current and future clientele.
More recently and to broaden their audience, we implemented a live on-site language translation which allows more visitors the opportunity to take advantage of the services offered, without needing to re-write multiple versions of all pages and menus in different languages.
More Info: Client's Review of VS Design | Website | Facebook
---
---