1. Picture Touch Up Overview
-
---
Photographs serve as memories to some of our most cherished moments – Most pictures are taken to capture the moments and subjects we want to remember for the rest of our lives.
Unfortunately, digital cameras weren't always around, and many of our older physical and printed pictures have fallen subject to wear and tear… Spills, fading, folds, creases, and even rips, resulting in a low quality photo needing professional picture touch up.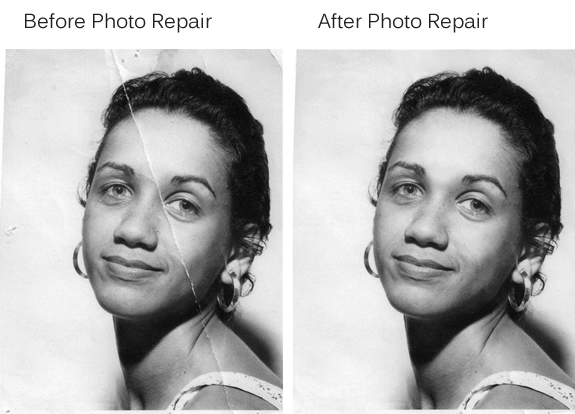 At Very Smart Design, our picture touch up service can assist you in restoring nearly any damaged photographs to their original condition (sometimes, even better!) as we are able to provide picture touch up at a microscopic level and have your pictures looking brand new again.
2. Examples of Picture Touch Up
---
Using a combination of the latest in imaging technology along with high resolution HD screens, we assist in picture touch up down to a microscopic level, repairing anything from rips to water damage, blemishes and spots, as well as the more common issues of "red-eye" and poor lighting. Feel free to view the examples below; Click images to see large versions and explore the fine details in which we have repaired some of our client's classic photographs.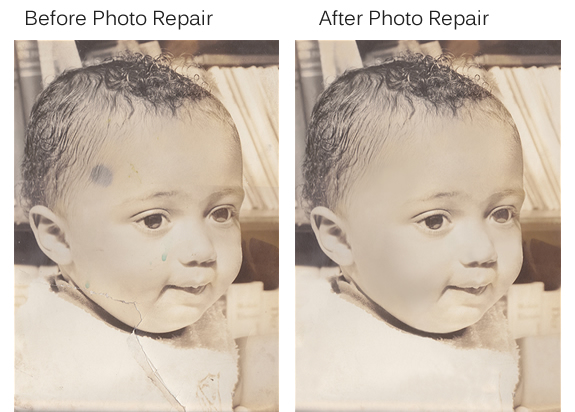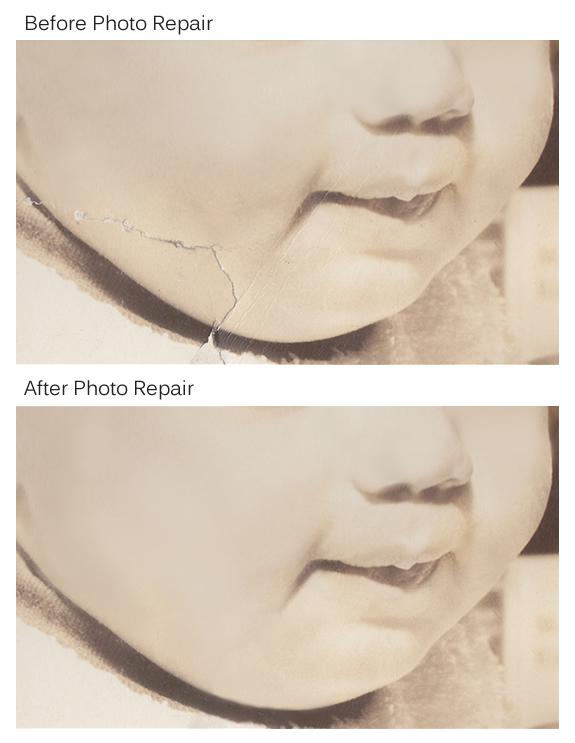 You may send over the photos to be repaired either by scanning and emailing digitally (preferred / most secure method), or via physical mail with tracking ID, and we will touch up each picture to the best possible condition. If there is a case where a photo cannot be repaired after our attempt, we will let you know, and there will be no charge.
3. Photo Repair Pricing
---
Light Touch Up
Medium Touch Up
Heavy Touch Up
Price
$15 per photo
$30 per photo
$50 per photo

(Click to View Examples of Heavy Damage Repair)

---

Bundle 1
$50 – Repair of Two photos with medium damage.

---

Bundle 2
$90 – Repair of Two photos with heavy damage.

---

Bundle 3
$100 – Purchase two "Heavy Touch Up" alterations and
get 1 "Light Touch Up" alteration free (Up to 5″ x 7″).

---

Features
Available Picture Touch Up and Alterations:
- Repair rips, stains, folds and creases
- Restore faded photos
- Repair bad lighting
- Remove "Red-Eye"
- Cover-up + remove blemishes, pimples or other marks
- Crop & remove unwanted items/background/people
- Optional effects like frames, vignette, and faded edges
* Other features may be available upon request *

---

Notes
Photos may be scanned and sent digitally (via email) or physically (within the U.S.) for repair or alterations. If shipping physically, please use verified FedEx, UPS or other official mailing method with a tracking number and ship in a package which will physically protect your photos from damage. Very Smart Design holds no responsibility for photos that are lost, stolen, or damaged before they arrive to our location. There will be a $5 charge for physically shipped photos to cover return shipping costs.

---

Support Hours
Weekdays & Weekends
4. Photo Repair Sign Up
---
Please fill out the form below if you are interested in our photo repair services.
This Sign Up form is a request form, to give us better idea on how we can help you.
We will respond back to your request within 24 hours, and if you then agree that you would like to continue and purchase the service, we will send you a contract fully detailing the pricing and options.
---
---
---