Elements of Smart Design
-
---
1. Graphics Styling & Logo/Brand Recognition is what makes your site unique. It's what differentiates your site from other sites, and it provides visitors a visual representation of your brand that remains in their minds well after they leave. We design for an appealing visual impression along with well-crafted site navigation, one of our main keys to keep visitors coming back.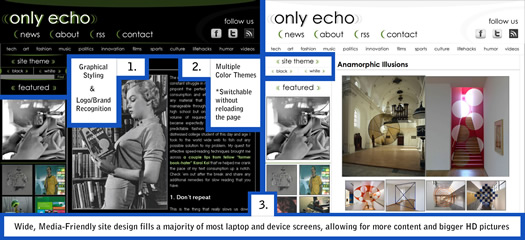 2. Up to 3 Color Themes, Switchable on the fly… Can't decide whether to go light, medium, or dark? Why not have all three? Our fully customizable design template allows us to create custom color themes on your site with a few quick code changes; With this, we provide the ability for your site's visitors to switch the colors on your page with the click of a button, and switch right back if they don't like the alternative. This is the most popular within our feature gallery… Decisions, decisions!

3. Wide, Media-friendly Site Designs mean you don't have to sacrifice high quality images due to lack of space. We provide a variety of design widths with spacious main areas, meaning your audience can enjoy bigger pictures, videos, maps, media, and even 3 column layouts for special content sections. This style of design is currently being used on this site (Very Smart Design), on our blog, as well as on our client sites "Nine is the One" and SportsHopes.

4. ShadowBox Viewer let's your users view images in the maximum dimension available for their screen size, without leaving your site. This means they can click on any of your smaller images or thumbnails for a closer look, and once they're done, they can exit the overlay viewer and resume browsing right from where they left off. You can view an example of how ShadowBox works by clicking the image below.


Elements of Social Networking
---
1. Facebook Like & Share Integration allows your visitors to promote and support your content on their Facebook page. The Share button allows for them to post your article directly to their Facebook feed, immediately visible to all of their friends; this is one of the strongest forms of networking and content discovery online.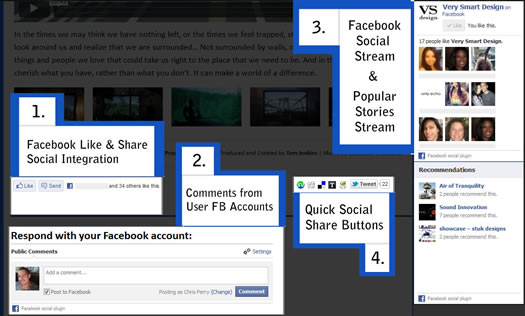 2. Comments from User Facebook Accounts means your users don't have to go through that dreaded sign up for your page in order to leave comments on your blog or page content; they simply login with their pre-existing Facebook accounts, and are instantly able to join the discussion or leave feedback.

3. Facebook Social Streams available in the feature gallery show the content on your site with the most "Likes" or "Shares", allowing users to quickly discover your most popular content. Also, if you have a Facebook Fan Page, you can choose to stream your latest posts and news from the Fan Page directly into the stream.

4. Quick Social Share Buttons is another way for users to network or broadcast your content onto other social networking sites, such as Twitter, Digg, StumbleUpon and Google +. The more social sites you provide for them to share, the more places on the internet that your content can be visible, leading to more traffic and a bigger (and more relevant) audience.
Elements of Business
---
1. Full Online Store with Cart and Checkout
means your visitors can shop your content directly within your site, without you needing a presence on eBay or a middleman to do all of the calculations. You let us know what you want to sell and provide the pictures and prices, and we'll do the rest. You get 100% of the profits from everything you sell.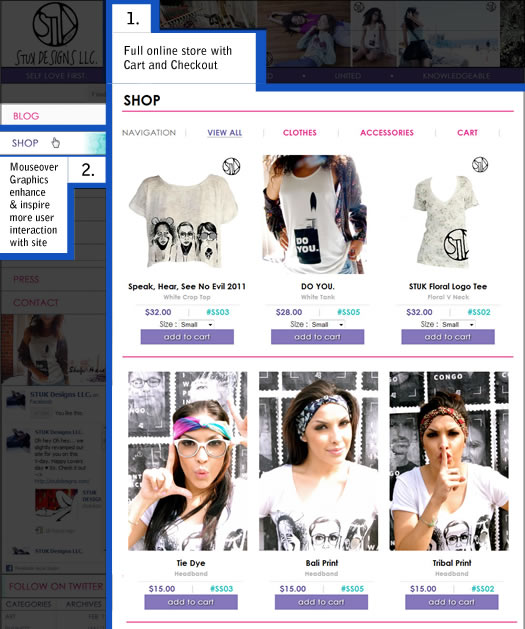 2. Client Login Area
gives you quick access to all of your account information, where at any time you can view the worklog (the latest work we've completed for you), your account balance, and full details on your project. For your convenience, we've set up a system to allow fast and easy payments. Check out a fully functioning demo of the Client Login Area by
Clicking Here
.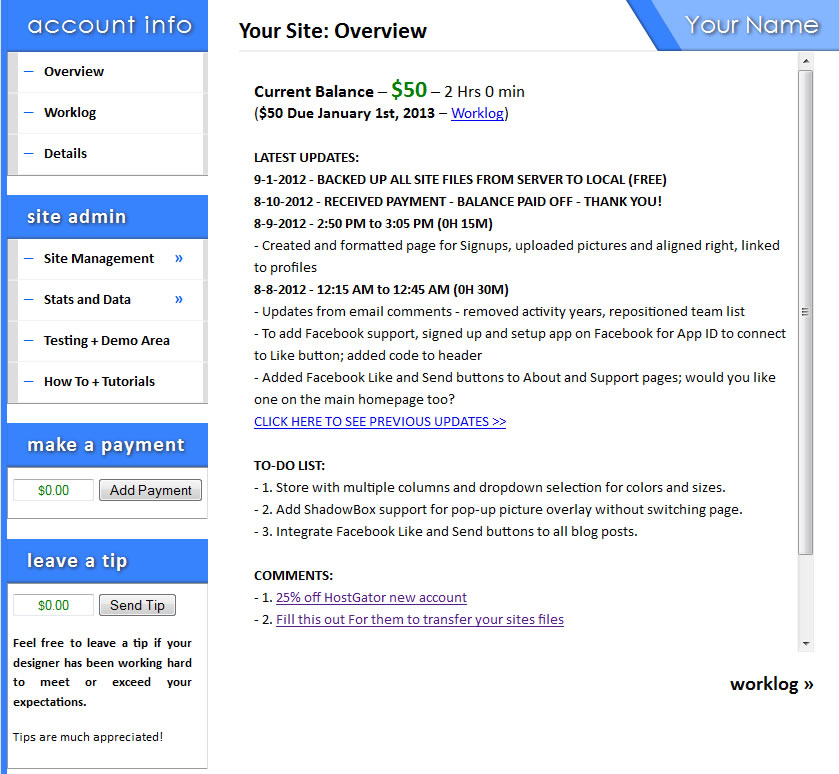 3. Mouseover Graphics
in the feature gallery allow a special level of user interaction, making your site seem more "alive" and reactive as they navigate and hover over various objects. This assists the user both in that it lets them know that the item they are hovering over is "actionable" (potentially linking to another area), and also gives a general sense of responsiveness and control.
---
---