Words from Stop Looking at Media
-
---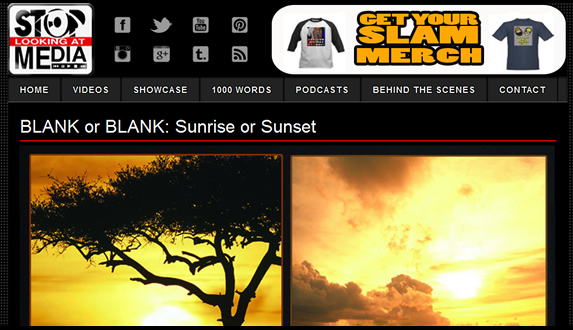 Stop Looking At Media LLC
had an idea for a video-themed website, built on the WordPress platform, for the launch of our new online media company in September. Chris Perry with
Very Smart Design
was recommended by a trusted friend who said he's the guy to turn to. So we reached out.
In the past, a few of the founders of SLAM have had 'recommendations' for people to help in the build out – or redesign – of a website. Results have been all over the map, most of them not good. Very Smart Design changed our thinking after just one conversation with Chris.
Chris possesses an uncanny skill for listening to the client and responding with clear choices, and answers. He goes beyond his knowledge of implementing the framework for a website. He understands design. He recognizes what features work on a website and doesn't hesitate to say yes or no to an idea. He listens. I can't emphasize this enough. It's a trait that most don't possess; Chris does.
Very Smart Design patiently worked with our team over many hours of phone conversations, emails, & text messages. He implemented everything we asked for in such short order that was shocking. He responded to each crazy question we had with an understanding of where we were going with it and what we should do about it. He offered advice. He showed us design elements that don't work – and those that do. His knowledge of SEO has proven invaluable. He never hesitated to begin work right away if we were under a deadline. And there were many nights where he was up until 3a working on it!
Chris has been patient. He's been tireless in making sure we were satisfied and happy with the product. And he's attentive. These traits just aren't found with other website designers. And to top it off, Very Smart Design has a client log-in where you can keep track of the latest work done on the site. I've never seen that before. It's a wonderful resource for those of us that want to keep up with what's happening without being too pushy.
Very Smart Design couldn't come more highly recommended from the crew at Stop Looking At Media LLC. There aren't words for how happy we are with our results.
- Bryan Duplantis
Co-Founder, Stop Looking at Media
http://www.stoplookingatmedia.com
---
---