Words from SportsHopes
-
---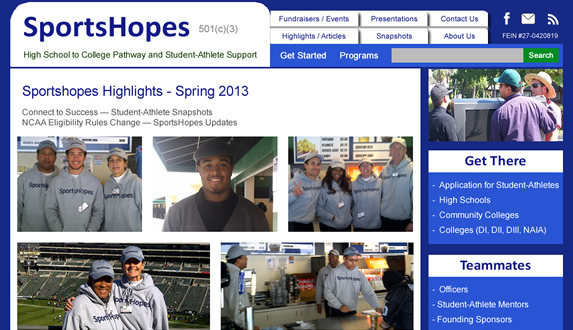 When I founded my not-for-profit in 2008 I knew it was of great importance to have a professional website built (and maintained) that would provide not only a professional web presence but also would present to the public exactly who and what my organization is all about. I had a vision of what that internet "face" should reflect but greatly needed the assistance of an expert website designer who would listen to what I envisioned and needed, and turn my thoughts, needs and goals into a reality.
I was referred to Very Smart Design by an associate in the high tech industry, and am thrilled with the website that has been created for my org. In fact, I love my website. VS Design is extremely easy to work with, knowledgeable, readily available, quick to respond with regards to my requests, updates, revisions, new items and new pages.
My dream of helping student-athletes get to college is a reality, and having a website that supports who and what my org is, and provides credibility to the public about my org, is crucial.
I look forward to many years of continued growth for my org and and know that Very Smart Design will be there for me every step of the way!
- Jennifer Oliver
Founder, SportsHopes
http://www.sportshopes.org
---
---