Words from Now What?!
-
---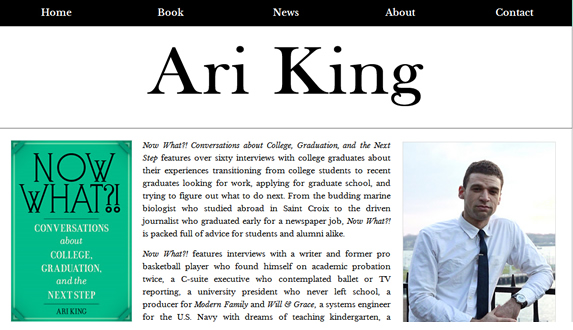 Working with Chris has been great and hassle free. He has been easy to contact and always responds to emails, texts, and phone calls. His prices and synopsis/review of the conversations he has with his clients are very helpful, informative, and fair.
This was my first website and Chris was very good at helping me come up with various aspects of the site from the color to the function. I often changed my mind with certain features and he was really accommodating and would make the changes very quickly and would do exactly what I wanted. Moreover, Chris provided a thorough breakdown of his worklog which showed the work he did on any given day (along with the details and synopsis of changes to the site) and the corresponding rates.
Working with Very Smart Design was a great decision.
- Ari King
Now What?! Conversations about College, Graduation, and the Next Step
http://www.ariking.com
---
---